Copyright (c) 2002 the site owner
All rights reserved no part of this site
may be used without expressed written permission from the site owner
,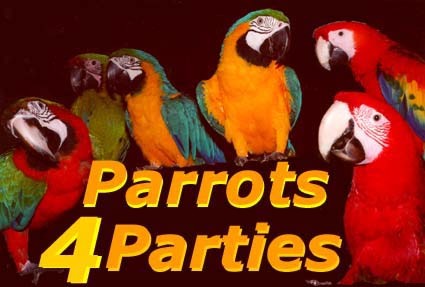 Parrots for Parties TM America's best source for parrots and parrot entertainers for any party or event. We have the lowest prices and we are fully insured. We offer the widest assortment of friendly hand tame Parrots available for interaction with people at your party or event. Parrot encounters are perfect for any kind of gathering such as Summer Camp, Pre school, Scouting events, corporate events, picnics, wrap parties, promotional events, festivals, and many other type of events. We bring four or more large Macaw Parrots to hold and if requested we have smaller Conures and Amazon Parrots also to fit your needs. A Parrot encounter is usually $300. Call for prices for production work or parrot shows.

Call us for information and to book your event
call: 714-745-7321 Pay Online Here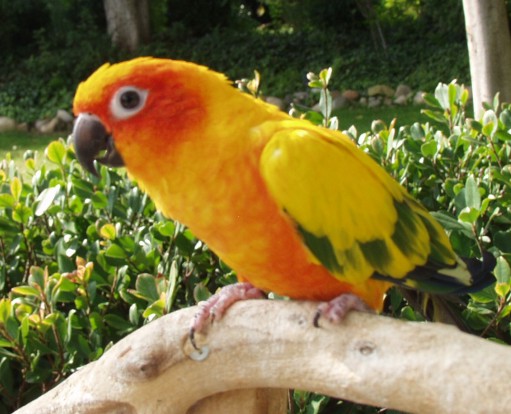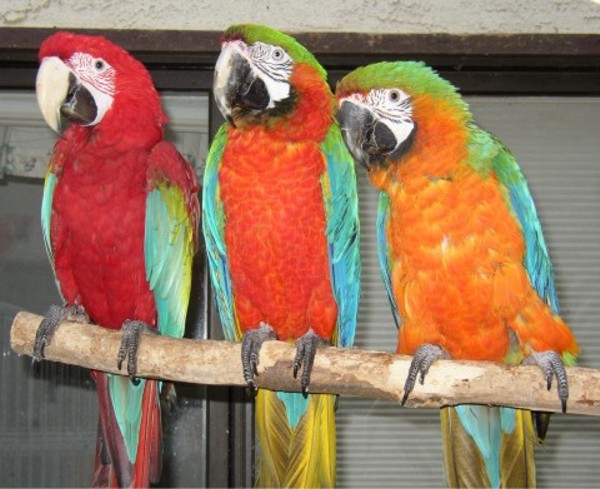 Our handlers come dressed as zookeepers or in a Hawaiin shirt and we also provide pirates for a fun pirate theme party or children's birthday party WE have parrot shows for any themed event. We're the Original Parrot Party. We also produce corporate parties and special events and offer Pirates for Parties for the pirate theme party. We have the best pirate props for rent and we plan, produce and decorate the finest pirate theme events and parties. Call us to Rent a Monkey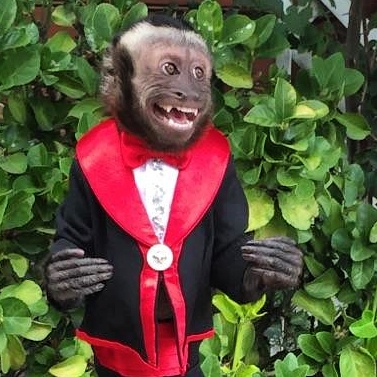 We provide complete party and event production services as well as exotic animals and specialty acts for any themed event especially pirate themed events with acts such as a pirate band, a Caribbean pirate Captain, Parrot jack the pirate entertainer and other pirate actors are available for hire and we provide full entertainment production services for your event including pirate and tropical acts, pirate props, bands, lighting, and more. View Kids Pirate birthday party pictures Hire pirate entertainers children's birthday party, pirate party, or to entertain a corporate event in the USA. call 714-745-7321 to find pirate captain entertainer or other pirate entertainer in your area. Our entertainers provide the finest parrot encounters and parrot shows in America. The only southern California parrot shows. Read our Reviews. We also have pirate entertainers and pirate theme entertainment available in many cities in the USA that perform without parrots. Captain Parrot Jack is pictured. Have a Rio Themed Birthday Party with parrots. 714-745-7321 EMAIL US For parrots at any party or event! The Best Pirate Decorations!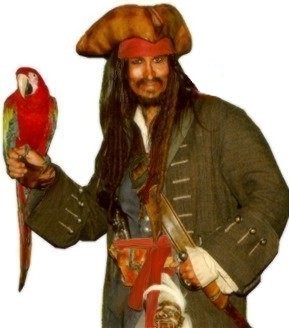 Have a Pirate Party!
Call us for the best pirate actors, the best pirate theme entertainment, impersonators, and pirate entertainers in America. Parrot Parties and Pirate Parties are fun for everyone. Parrots lend themselves to any special occasion or event. Trained parrots are available in the USA for movies, live stage shows and parrot shows. Parrots love to talk to you and sit on your guest's arms and shoulders for pictures. Trainers appear as zoo keepers dressed in khaki, or in Hawaiian shirts, or as pirate re enactors, and a Caribbean Pirate captain Parrot Jack, is for hire for any event to meet and greet and entertain your guests and pose for pictures. EMAIL
Parrot shows are available in southern California and New York, New Jersey, Las Vegas, NV, and Orlando, FL for birthday parties, corporate events, public events, also film or video shoots in studio or on location.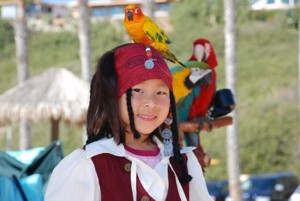 Parrot trainers are all over the USA providing parrots, parrot shows, and pirate theme party or event entertainment like Captain Parrot Jack, and other entertainers, bands, and pirate entertainers. For service in Chicago,IL, Boston, MA, New York, NY, NJ, PA, CT,FL, VA, WA D.C., MD, NV, . Call 714-745-7321 These entertainers specialize in providing entertainment for a children's birthday party, adults party, or corporate and special event productions.
Ph: 714-745-7321 Pay Online Here
Have a RIO Themed Birthday Party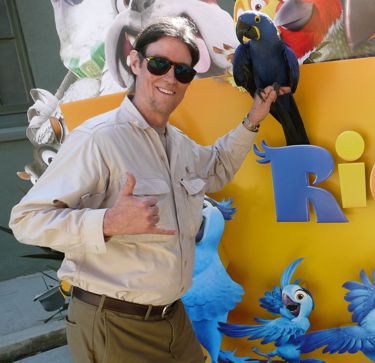 Have an awesome Rio Themed birthday party for Kids and adults you will never forget with hand tame friendly talkative Macaws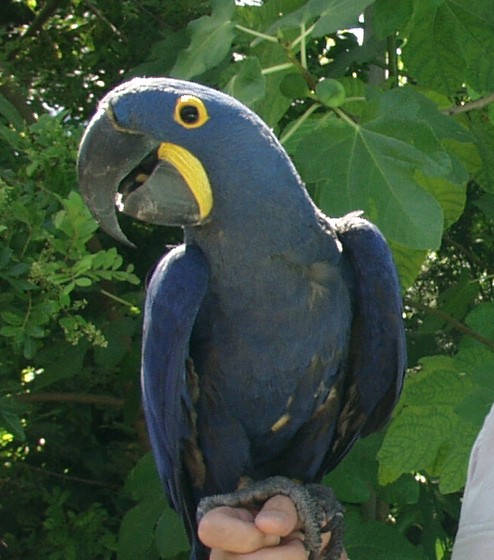 Call to have a Parrots for Parties parrot show with zookeeper parrot handler for a RIO themed party or tropical themed party or we can send the Caribbean pirate Captain Parrot Jack and one or more pirate characters at your special event or production. Party Parrots are perfect for Jimmy Buffet Parrot Head parties and Pirate Parties. We guarantee your satisfaction and many happy clients and guests. We have Special Programs for schools and organizations.
References available upon request. See a Kids Grand Production Party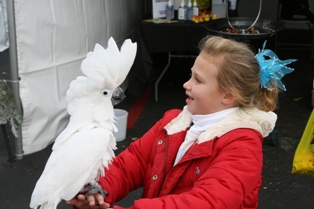 Parrot shows and parrot parties can be any theme, our entertainers dress in khaki or Hawaiian shirts, or as pirates, or any way you like. Hire a bird show we have many different birds to choose from.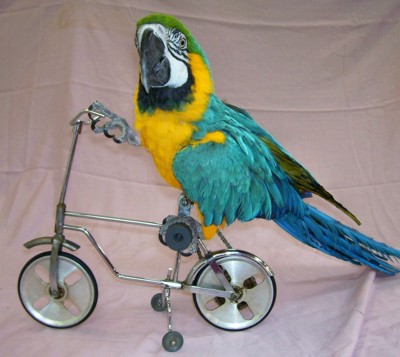 Experience the feathered fun at your next event with the Original Parrot Party Posse available for parties and events in Southern California, New York, New Jersey, Pennsylvania, Florida, and other states.
We also feature Pirate parties with one or more pirates in authentic period clothing - not costumes, and pirate bands and other pirate themed entertainment for Pirate Parties We can add one or more pirates in authentic 1700's period clothing to your event with real trained parrots to entertain your guests for a real Pirate Party or pirate event. We provide the finest Pirate Props and decorations for rent. Click here to see Captain Parrot Jack the pirate entertainer or Black Beard, a pirate with a parrot ready to entertain at your pirate party. A pirate birthday party or a Pirates of the Caribbean themed party or event is incomplete without a pirate with a parrot. Have Captain Parrot Jack entertain your guests at a pirate party or a pirate themed birthday party, any kind of party or event. Captain Parrot Jack will go anywhere.
Call us for information and to book your event with date and time
call: 714-745-7321 Pay Online Here
A Pirate Party by Parrots for Parties is much more than parrots and pirates, we can produce the whole event if you require it.
EMAIL US info@piratesforparties.com
Call us for Bird shows and parrot shows in Southern California and The Bay Area of San Francisco and San Jose, Silicon Valley, CA
We have Parrots parties available in:
So Cal, NY, NJ, PA, VA, MD, DC, and Orlando FL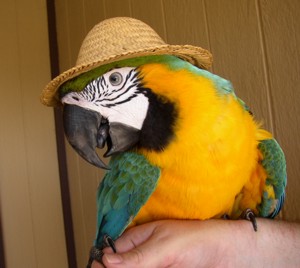 Call for information on our other other services which can be provided such as the deluxe pirate party package or the Grand Production, the ultimate complete large scale pirate themed party production package that is designed for those that want the absolute ultimate pirate party experience for very special events with a few very special people or up to a few thousand guests.
The Grand Production includes: Live Pirate Music and entertainment with Captain Parrot Jack and with up to twelve pirate actors in pirate garb with swords for pirate sword fighting shows, singing, carousing, comedy, and parrot handlers, parrot shows, pirate photo booth with framed pictures of guests holding parrots or pirate props while dressed in pirate pirate garb and a memory photo book for the host or hostess to keep plus a choice of pirate themed specialty acts such as fire breathers, sword swallowers, a fortune teller, acrobats,and entertainers, pirates of the caribbean themed props, theatrical lighting, PA sound system, pirate bands, monkeys, parrot and bird shows and other animals also available. See a Kids Grand Production Party
Call for details and prices for the Grand Production Pirate Party the ultimate pirate party experience, or any party, event or special appearance.
See Pictures of us at the 2007 Snowball Express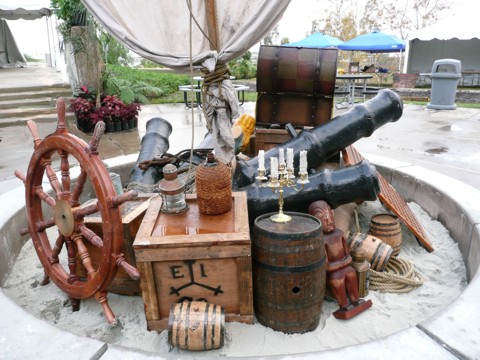 The Largest Selection of Pirate Props for Rent in the USA
We produce Original Event Entertainment and specialize in producing and decorating Themed Events
Parrots for Parties is a Trademark .
Some of the cities we serve in Southern California are LA , Hollywood, Los Angeles, Long Beach, Seal Beach, Redondo Beach, Manhattan Beach, El Segundo, Marina Del Rey, Malibu, Palos Verdes, Reseda, Pasadena, Arcadia, San Marino, Monrovia, Glendale, Burbank, Santa Monica, Brentwood, Beverly Hills, Hollywood Hills, North Hollywood, Studio City, Encino, Tarzana, Orange County, California, OC, CA, and it's cities of Anaheim, Orange, Buena Park, Brea, Cypress, Huntington Beach, Newport Beach, Corona Del Mar, Laguna Beach, Dana Point, Garden Grove, Fullerton, Orange, Tustin, Fountain Valley, Costa Mesa, Newport Beach, Seal Beach, Los Alamitos, Irvine, Laguna, L:Laguna Niguel, Mission Viejo, Ladera Ranch, Coto De Caza, Villa Park, Orange Park Acres, Yorba Linda. Placentia, Brea, Santa Ana, San Clemente, San Juan Capistrano, Ladera Ranch, Rancho Santa Margarita, Tustin, San Diego County, Del Mar, La Jolla, Westminster, Stanton, Covina, West Covina, Pasadena, Santa Monica, Beverly Hills, Palos Verdes,Malibu, Palm Springs, San Diego, Rancho Mirage, Indian Wells, Thousand Palms, Moreno Valley, Claremont, Riverside, Ontario, Upland, Cucamonga, Redlands, Corona, Las Vegas, and other locations. We also provide service in the states of New York, Illinois, Pennsylvania, New Jersey, Conneticutt, Rhode Island, Washington D.C. Maryland, Virginia, Texas, Florida, Chicago, Colorado, Massachusetts, San Francisco area. San Jose, Sunnyvale, Mountainview, Cupertino, We will travel anywhere in the USA.
Terms of Service
Pay Online Here
Parrots for Parties is not responsible for content on sites that link to us.
Parrots for Parties provides the finest tropical theme entertainment, pirate theme entertainment, or pirate entertainer for your pirate party or pirate theme children's party in cities throughout the United States. We also provide Pirate Props and pirate theme decorations, and your choice of pirate band for the ultimate pirate theme party.

We provide you all the information and ideas to throw the ultimate event or pirate theme party for your corporate event, public venue, hotel, resort, company picnic, birthday party, adult party, graduation party, Luau, meeting, anniversary, wedding, pirate theme wedding with a pirate minister, tropical theme party, Jimmy Buffet Party, Parrot Head Party, Mardi Gras party, Rio Themed party, or any theme party.
We provide many different entertainers. We have celebrity look-alikes impersonators like Angelina Jolie and others for your event. We have an Indy Jones Action Adventure show for your adventure theme party, exotic animals including parrots, a parrot show, parrots for pictures with guests, photo booth with parrots, a monkey for hire or monkeys for hire (No phone calls for monkeys EMAIL only ), Cockatoos, palm trees, plants, lighting, staging, custom props, props for rent or sale, fire breather, sword swallower, knife thrower, magician, comedian, actors, dancers, DJ, organized treasure hunt, scavenger hunt, team building event, comedy show, bird show, pirate show, Australian theme party, Hawaii theme, Tiki theme party, Tiki decorations, Tiki props, parties on the beach, sailing ships, tall ships, yacht charter cruise, Catalina Island party and many other acts and unique entertainment and party and event production services.
Disclaimer: Parrots for Parties is an advertising service for look-alikes, entertainers, animal trainers, animal exhibitors, animal acts and specialty acts in America, the company receives a fee for the advertising provided. Parrots for parties is not responsible for the comments or actions of the animal trainers if the client should contact the animal trainer directly. Parrots for Parties is not offering the services of any character that is trademarked or copyrighted by others. Any similarity to any trademarked or copyrighted character is unintentional or performed as parody. Parrots for Parties in no way implies to claim any rights or any kind of affiliation with Twentieth Century Fox, or Disney and any trademarked or copyrighted characters and including, but not limited to Captain Jack Sparrow, as well as any intellectual property pertaining to the motion picture/s"Rio and Rio2" and "Pirates of the Caribbean" which are TM and © (or copyright) by Fox and Walt Disney, Jerry Bruckheimer and its related entities respectively. This web site and its contents are in no way affiliated with Disney, or authorized or endorsed by Disney Corp, Jerry Bruckheimer Productions, Johnny Depp, or any of their subsidiaries. Parrots for Parties is not affiliated in any way, nor do they by fact or inference imply to hold any rights or authorization, rights of association or sponsorship or endorsement of the use of any copyrights or trademarks as held by any individuals, or companies in association with any offer, including, but not limited to Johnny Depp, Jerry Bruckheimer, Disney and its related entities. The contents of this site are © the site's owners, all rights reserved. No Reproduction of images