Copyright (c) 2002 the site owner
All rights reserved no part of this site
may be used without expressed written permission from the site owner
,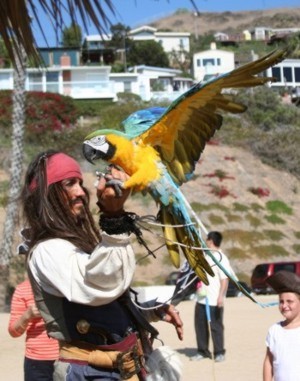 Enjoy a Parrot Show ! Parrot Shows are fun for any kind of event. You can have a parrot show on a stage or almost anywhere. A hands on parrot encounter can be held almost anywhere. Parrots that are affection trained and can be held by your guests. See flying macaw parrots and hear talking parrots that will talk 714-745-7321
The parrot handler will appear at your event as a pirate, a zoo keeper, or a Hawaiian beachcomber. Our handlers are experienced parrot trainers and breeders that love to work with birds and bring people and parrots closer together. Parrots are natural performers and will make every appearance a Parrots of the Caribbean parrot show. A parrot show is perfect entertainment for a children's birthday party, a pirate themed party, a Jimmy Buffet party, Hawaiian Luau, or any kind of party and especially a pirate party.
Call Parrots for Parties TM for your event. When they are not performing Parrots like to hang out on stands placed with tropical jungle themes and they like to walk about on the arms of our handlers in pairs. All the people get a chance to hold the birds, to touch the feathers and pet the them. The handlers answer all your questions and are quick to clean after if poop should occur.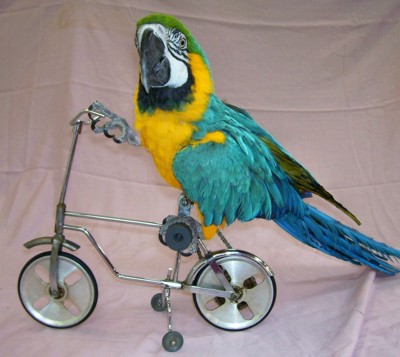 Have a parrot show at your event. Make your next event a Parrot Party and enjoy an experience you will never forget. We are perfect for Parrot Head Parties or Pirate party or your next Pirates of the Caribbean Party. We can provide a pirate stage show with performing parrots and sword fighting pirate characters like captain Parrot Jack. You can have a visit from Back Beard or Captain Parrot Jack, or you can have a whole crew.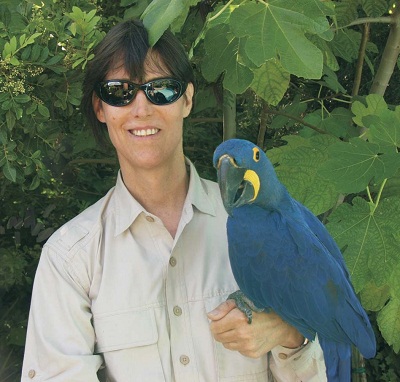 Handlers can be attired as zookeeper's in khaki, or in Hawaiian shirts, or as pirate captains and crew. We specialize in providing professional photography at the event with framed digital pictures of people holding parrots, up to hundreds of guests every hour for very large parties and events with a thousand guests or more.
We can handle the very largest events and productions, or small intimate gatherings of any kind and children's birthday parties.
We serve all of LA, Los Angeles County, San Diego, Riverside, San Bernardino, Palm Springs, Ventura County, CA, and Las Vegas, NV. We will also provide a parrot show in New York, New Jersey, Pennsylvania, Connecticut, Enjoy a parrot show at your event. Call us about parrot shows 714-745-7321.
All parrots shown on this site are for illustration purposes only
Call us about any special requirements you might have for your event.
Parrots4Parties has provided parrots and feathered fun and entertainment at events for many corporate clients including: AARP, ATT, Disney, Fox, General Motors, Honda, Hilton Hotels, HP, Interstate Battery, Wells Fargo, The City of Hope, Wellpoint, Global Vision For Peace, and many others.
Disclaimer: Parrots for parties is an agency which advertises the services of America's best parrot show entertainers and pirate party entertainers for a fee. Some of the entertainers we advertise perform a satirical parody of the character Captain Jack Sparrow and other pirate characters. Parrots for Parties is not offering the services of any character that is trademarked or copyrighted by others. Any similarity to any trademarked or copyrighted character is unintentional or is performed as parody. Parrots for Parties in no way implies to claim any rights or any kind of affiliation with Disney and any trademarked or copyrighted characters and including, but not limited to Captain Jack Sparrow, as well as any intellectual property pertaining to the motion picture/s "Pirates of the Caribbean" which are TM and © (or copyright) by Walt Disney, Jerry Bruckheimer and its related entities. This web site and its contents are in no way affiliated with Disney, or authorized or endorsed by Disney Corp, Jerry Bruckheimer Productions, Johnny Depp, or any of their subsidiaries. Parrots for Parties is not affiliated in any way, nor do they by fact or inference imply to hold any rights or authorization, rights of association or sponsorship or endorsement of the use of any copyrights or trademarks such as Jack Sparrow as held by any individuals, or companies in association with any offer, including, but not limited to Johnny Depp, Jerry Bruckheimer, Disney and its related entities. The contents of this site are © the site's owners, all rights reserved.
Note to Orange County residents: Until parrots are exempted from section 5-1-29, you will never be entertained by parrots at a party or event in Orange County again. Every legitimate parrot entertainer has boycotted Orange County, California. Other counties and states are not affected.
Our primary service area is Southern California. We also provide pirate entertainers for events in Northern California, Las Vegas, and other locations anywhere in the USA for special events. Some of the cities we serve in Southern California are LA , Hollywood, Los Angeles, La Puente, Covina, West Covina, Whittier, Azusa, San Dimas, Long Beach, Seal Beach, Cerritos, Gardenia, Redondo Beach, Manhattan Beach, El Segundo, Marina Del Rey, Malibu, Palos Verdes, Reseda, Pasadena, Arcadia, San Marino, Monrovia, Glendale, Burbank, Santa Monica, Brentwood, Beverly Hills, Hollywood Hills, Hidden Hills, Agoura Hills, Calabasas, Encino, North Hollywood, Studio City, Encino, Tarzana, Orange County, California, OC, CA, and it's cities of Anaheim, Orange, Buena Park, Brea, Cypress, Huntington Beach, Newport Beach, Corona Del Mar, Laguna Beach, Dana Point, Garden Grove, Fullerton, Orange, Tustin, Fountain Valley, Costa Mesa, Newport Beach, Seal Beach, Los Alamitos, Irvine, Laguna, L:Laguna Niguel, Mission Viejo, Coto De Caza, Villa Park, Anaheim Hills, Orange Park Acres, Yorba Linda. Placentia, Brea, Santa Ana, San Clemente, San Juan Capistrano, Ladera Ranch, Rancho Santa Margarita, Tustin, Corona, Murrietta, Oceanside, Camp Pendleton, Encinitas, Carlsbad, San Diego County, Del Mar, La Jolla, Westminster, Stanton, Covina, West Covina, Pasadena, Santa Monica, Beverly Hills, Palos Verdes, Malibu, Palm Springs, San Diego, Rancho Mirage, Indian Wells, Thousand Palms, La Quinta, Moreno Valley, Claremont, Riverside, Ontario, Upland, Cucamonga, Redlands, Corona, Las Vegas, and other locations. We also provide service in the states of New York, Illinois, Pennsylvania, New Jersey, Conneticutt, New Jersey, Rhode Island, Washington D.C. Maryland, Massachusetts,Texas, Florida, Arizona, Rhode Island. We will travel anywhere in the USA.
Proud Member of the Corporate Event Channel