Copyright (c) 2002 the site owner
All rights reserved no part of this site may be used without expressed written permission from the site owner
,a
Captain Parrot Jack for hire a Caribbean pirate with a parrot or parrots - Johnny Depp Look alike for Pirate Themed Events 800 650 2473
Hire Captain Jack. Invite Parrot Jack to your event. Have a Pirates or a Caribbean theme Party. A professional pirate character entertainer is for hire and available for your pirate party, birthday party, or other pirate themed events all over the USA as well as in Southern California. Call Captain Parrot Jack and Pirate for Parties for your Pirates or Caribbean theme special event in California and Las Vegas, also Black Beard, Captain Morgan, or other pirates are for hire. We provide one or more authentically attired pirates for your pirate party or pirate themed event, complete with swords and parrots. A whole pirate crew is for hire. All our pirate characters are experienced actors or parrot handlers with a pirate vocabulary and extensive knowledge of pirate history and trivia. Captain Parrot Jack can also entertain your guests with his Parrots of the Caribbean in limited areas. Captain Parrot Jack and a whole pirate crew is for hire and available for any type of event or function in any city.
Find a pirate near you. Call 800 650 2473
Hire Parrot Jack, a Johnny Depp look-alike impersonator as a pirate character is a big hit with young adults, teenagers, and kids of all ages as well as mature adults and seniors at birthday parties or any kind of party or corporate event or any special event or social function. Parrot Jack, a Johnny Depp look-alike impersonator can meet and greet your guests at company picnics and any other public or private event, or he can be the MC of any event that won't mind being taken over by a pirate. Parrot Jack can perform skits and sword battles with comedy, satire, parody and product placement to provide executive introductions and other corporate theatre production in everything from a a hotel banquet room in San Diego and LA to a Las Vegas showroom, or a pirate party staged on the beach or a sailing ship**. See Captain Parrot Jack Below. View Kids Pirate birthday party pictures We will perform limited engagements all over the U.S., call for details. Read What Our Customers Think of Us - We are the professional's choice. See a Grand Production Pirate party for kids
See pictures of Jack and other pirates at the 2007 Snowball Express - Pier Daze 2008
Call for Pirate Party details: 714-745-7321
Everyone likes to get their picture taken with Captain Parrot Jack and a parrot or two

Captain Parrot Jack This pirate character is an entertainer for parties that is very popular at a birthday party for children and adults or any type of function that can benefit from a pirate character played by a person that looks and talks like Johnny Depp. Captain Parrot Jack's garb is historically authentic in every detail. Party guests of all ages love to have their picture taken with him. Parrot Jack will lead children or adults on a fun filled treasure hunt. We provide other pirate characters in authentic period clothing for any function. More pictures of Parrot Jack the pirate character actor entertainer are below and details for a pirate themed event or birthday party are provided below. Or Click here for even more pictures of Captain Parrot Jack and other pirates. - - - - - Long Beach Pirate Festival 2007 - pics from the Ventura Pirate Festival July 2007 - - See pictures of a Kid's Grand Production Pirate Party Read customer letters

A Pirate Party in Progress

Parrot Jack

We provide Captain Parrot Jack which is a character that is enjoyed by children and adults alike at company picnics, corporate events, or a pirate party for any age group, and children's birthday parties are perfect for an appearance by Captain Jack. Click here for more pictures of Captain Parrot Jack and other pirates. Captain Jack appears at Birthday parties. Call for details or planning any special requirements for your pirate party event. Pirate birthday party pictures . Captain Parrot Jack and his crew of pirates will entertain at any kind of event for three of more hours

Because we do so many Pirate birthday party and pirate themed events we offer Three levels of pirate themed parties or events and birthday parties. A Basic Pirate Birthday Party features a one hour visit from Captain Parrot Jack. A Basic pirate party is one hour and has time for a treasure hunt (treasure not provided), and the pirate's tutorial with sword training for all the kids using rubber practice swords with Captain Parrot Jack. All the kids love to learn how to sword fight with Jack using these safe rubber swords. There is also time for singing happy birthday with Jack and all the kids prior to the Captain's departure. Captain Parrot Jack will also pose for pictures with all the guests while holding the parrots. Many guests enjoy a chance to have a real sword fight with Captain Parrot Jack with real pirate swords (no sharp edges). Captain Parrot Jack will teach children and adults sword fighting one on one for an unforgettable interactive pirate party experience.

A Deluxe Pirate Birthday Package is two hours and can have one or two pirates, Captain Parrot Jack and a crew member or just Captain Jack to perform tricks with the parrots, have a parrot petting zoo encounter, Jack will lead a treasure hunt, then perform a sword fighting show with the other pirate, and then perform the pirate tutorial with wooden sword training starring Captain Parrot Jack and the birthday child, and the wooden sword game with Jack and each child. The deluxe party gives time for Jack and the pirate crew member to take "Pirate Pictures" with Captain Jack. Call for details and the price of the Basic birthday party package, pirate themed or not pirate theme, and the Deluxe Pirate Party birthday party package for kids and the package for a pirate party for adults. Call anytime 714-745-7321Deluxe Party Package Pictures. Scroll down to get pirate party ideas Below

The Grand Production Pirate Party is the ultimate complete large scale pirate themed party package, a real Hollywood production pirate show with full cast and crew that is designed for those that want a complete package for the absolute ultimate pirate party experience for very special events with a few very special people or up to a few thousand guests. The Grand Production includes: A Johnny Depp impersonator pirate captain or other pirate captain with up to twelve pirate actors in authentic pirate garb with swords for pirate sword fighting shows, firing flintlocks, singing sea ditties, carousing, comedy, and pirate show, a belly dancer or more, a pirate stunt show, also talking parrots with their pirate parrot handlers, the pirate photo booth for framed pictures of guests holding parrots or pirate props while dressed in authentic pirate garb and a roving pirate photographer to shoot the whole party and provide a memory photo book for the host or hostess to keep with an extra photo keepsake; a montage of special photos taken during the event, plus a choice of pirate themed specialty acts such as Hollywood's best fire manipulator or fire breather, a sword swallower, a fortune teller, acrobats, and other entertainers, and pirates of the caribbean themed hollywood props and pirate decoration service, theatrical lighting, PA sound system, pirate bands, a pirate monkey, and other exotic animals are also available on special request. Call for details and prices for the Grand Production Pirate Party, the ultimate pirate party experience. We have pirate entertainers in your region, call us for professional pirate entertainment near you. Outside California Call 800-650-2473 anytime for the ultimate Pirate Party you guests will never forget. See pictures of a Kid's Grand Production Pirate Party

We can create the ultimate theme party for you with any theme and any budget.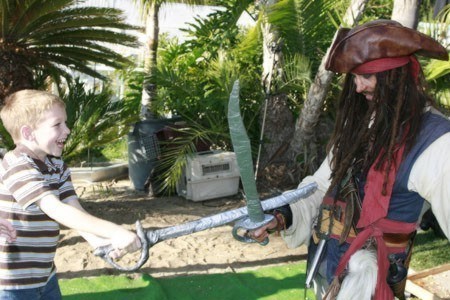 Click here for more pictures of Captain Parrot Jack and other pirates
Disclaimer: Parrots for Parties in no way implies to claim any rights or any kind of affiliation with Disney and any trademarked or copyrighted characters and including, but not limited to Captain Jack Sparrow, as well as any intellectual property pertaining to the motion picture/s "Pirates of the Caribbean" which are TM and © (or copyright) by Walt Disney, Jerry Bruckheimer and its related entities. This web site and its contents are in no way affiliated with Disney, or authorized or endorsed by Disney Corp, Jerry Bruckheimer Productions, Johnny Depp, or any of their subsidiaries. Parrots for Parties is not affiliated in any way, nor do they by fact or inference imply to hold any rights or authorization, rights of association or sponsorship or endorsement of the use of any copyrights or trademarks as held by any individuals, or companies in association with any offer, including, but not limited to Johnny Depp, Jerry Bruckheimer, Disney and its related entities. The contents of this site are © the site's owners, all rights reserved.