Copyright (c) 2002 the site owner
All rights reserved no part of this site
may be used without expressed written permission from the site owner
,
The Deluxe Pirate Party - Pirate party with Parrot Jack a the Caribbean pirate for your pirate party - Pirate Crew for your Pirates or Caribbean Party - party planner - event planner - Pirate Theme Wedding Planner
A deluxe pirate party can be for any type of event. Call us for the ultimate pirate themed wedding or special event. We are Americ's largest provider of pirate themed entertaiment and decorations. You can hire Parrot Jack and one or more crew members or just Captain Parrot Jack. The deluxe pirate party package is two hours or more and the basic package is one hour. A deluxe party can feature one or more added features to the basic package depending on time allotted and the number of guests. The added features can be fencing and sword fighting training with Captain Parrot Jack for children and adults, a sword fighting display with Captain Parrot Jack and a crew member, Below are images of a mock sword battle with Captain Parrot Jack and a crew mate. The swords have no sharp edge for safety reasons. Small children can use our rubber swords and older children quickly learn how to overpower Parrot Jack.
Call us for the ultimate pirate themed corporate event 714-745-7321 or a pirate wedding (see the picture below)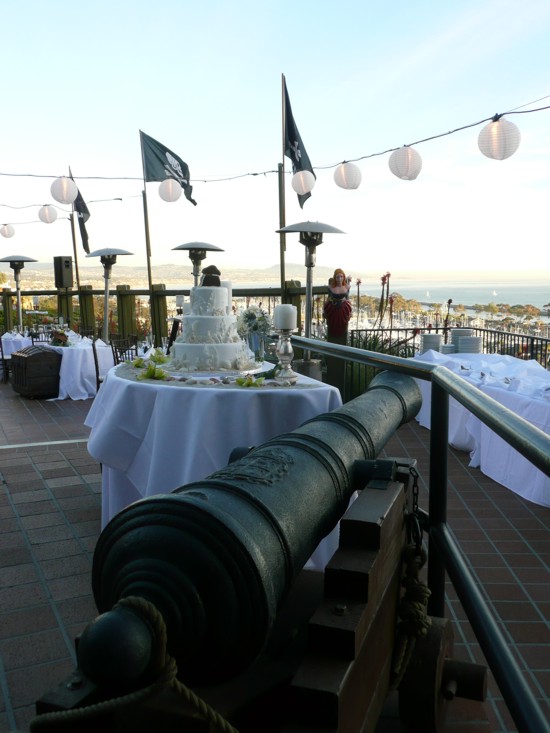 A pirate sword battle makes for fun after lunch or dinner entertainment at a pirate party

Kids Pirate birthday party pictures

A pirate party is only limited by your imagination. Parrots4Parties provides the most fun and entertainment for the dollar for your pirate themed party.

For the Grand Production Party a Pirate Band is DeRiguer - Kaptain Ray seen below

A grand production pirate party features the pirate party players for an outrageous sword fighting show.

The Grand Production party will feature elaborate pirate theme set dressing and pirate props
Disclaimer: Parrots for Parties in no way implies to claim any rights or any kind of affiliation with Disney and any trademarked or copyrighted characters including, but not limited to Captain Jack Sparrow, as well as any intellectual property pertaining to the motion picture/s "Pirates of the Caribbean" which are TM and © (or copyright) by Walt Disney, Jerry Bruckheimer and its related entities. This web site and its contents are in no way affiliated with Disney, or authorized or endorsed by Disney Corp, Jerry Bruckheimer Productions, Johnny Depp, or any of their subsidiaries. Parrots for Parties is not affiliated in any way, nor do they by fact or inference imply to hold any rights or authorization, rights of association or sponsorship or endorsement of the use of any copyrights or trademarks as held by any individuals, or companies in association with any offer, including, but not limited to Johnny Depp, Jerry Bruckheimer, Disney and its related entities. The contents of this site are © the site's owners, all rights reserved. .