Copyright (c) 2002 the site owner
All rights reserved no part of this site
may be used without expressed written permission from the site owner
,
Pirate Theme Event Planner and Event Production - The best pirate party planner - pirate theme event planner for childrens party or adult pirate theme party - Hire a Pirate Crew for a Pirates or a Caribbean Party or event
Parrots for Parties is America's pirate theme event planner and production company. We produce the best pirate theme events for corporate and private party entertainment. We provide services to the best party planners in the business and we can plan every detail and produce the whole event for you or provide entertainment only. See pictures of events below We also produce and decorate any theme event. We have it all.
We provide Hollywood style pirate decorations, pirate props, lighting, sound, video, staging, palm trees, tropical plants, event venues, permits, site preparation, catering, video production, and many other party planning services and event production services. Choose any pirate party package to fit your budget. We do all production services any theme. 714-745-7321
When we plan all the details for a large party or corporate event we call it a grand production party, call for more details. With years of experience in the special event industry we cover all the details to make your event a success. We will work with you to plan everything or provide just the services you need. We have the best pirate props and decorations for any size event, see pictures of pirate props below. We have a large lineup of pirate entertainers and actors to fill every role. See pictures of actors below
Some of our regular services include: The Best Pirate Bands, Pirate Props and decorations, Lighting, Pirate actors, your choice of Pirate band, Parrot shows, Pirates with parrots, Parrot photo booth, Exotic Animals, Pirate Ships, Black powder exhibitions, Sword fighting shows, Pirate shows, Belly dancers, Exotic dancers, Mermaids, Monkeys, Chimpanzees, a Pirate fire breather, a Pirate juggler, a Pirate magician, a Pirate sword swallower, fortune tellers, Henna artists, Face painters,
Call us to plan and produce the ultimate pirate themed party or corporate event 714-745-7321
Don't let this simple web site fool you - The quality of our events is so far beyond comparison, you won't find the same high level of quality that we provide anywhere else unless your party planner is using us! Why settle for less?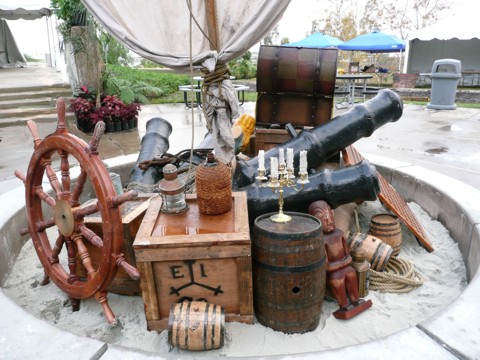 A pirate band performing at a residential grand production party for a child' s birthday

Pirate reenactors at a pirate festival on a beach

A pirate themed wedding overlooking Dana Point Harbor. We produce Pirate Theme Weddings - Call US

We provide pirate sword fighting shows

A pirate grog station - a barrel bar is available for rent for your event

Kids Pirate birthday party pictures

Parrots4Parties provides the most fun and entertainment for the best price for your pirate themed party, event, or festival.

For the Grand Production Party a Pirate Band is DeRiguer - Kaptain Ray seen below

Pirate reenators below, at a pirate festival in Long Beach California

A grand production pirate party could feature the pirate party players for an outrageous sword fighting show.

A pirate fire breather show at a nightime event.

The Grand Production party will feature elaborate pirate theme set dressing and pirate props

Loose Cannon Barrels

A pirate treasure chest on a barrel with a skeleton pirate leaning against the barrel

Figure head statues with loose cannon barrels and small rum barrels on the rocks

Pirate skeletons in a gibbet cage hanging from a gallows near Palm Springs, CA

A 40' pirate ship for rent with sails and rigging is the centerpiece at this pirate themed event produced by Pirates for Parties

We provide Exotic Animals, Custom Props and Design, Custom Shows for Corporate Events, Lighting and Sound, Bands, DJ's , Actors, Specialty Entertainers, Custom Graphics and Signs, photogaphers and Video Production Service, Special Effects and Laser Shows, Pyro Technics and Black powder cannons and weapons, stunt shows, Cirque Shows, Dancers, Drummers, Steel Drum Bands, Parrot Handlers, Parrot Shows, Celebrity Impersonators, Catering, Models, Acrobats etc.

We provide service to the whole United States but the pictures shown above are from events in Southern California. We specialize in So Cal and San Francisco, San Jose CA, Silicon Valley Events. We decorate any themed event with the best Hollywood quality Props in America. We serve all over the USA call 714-745-7321. We specialize in pirate theme event production and we will design and produce events with any theme, the possibilities are unlimited.
Disclaimer: Parrots for Parties in no way implies to claim any rights or any kind of affiliation with Disney and any trademarked or copyrighted characters and including, but not limited to Captain Jack Sparrow, as well as any intellectual property pertaining to the motion picture/s "Pirates of the Caribbean" which are TM and © (or copyright) by Walt Disney, Jerry Bruckheimer and its related entities. This web site and its contents are in no way affiliated with Disney, or authorized or endorsed by Disney Corp, Jerry Bruckheimer Productions, Johnny Depp, or any of their subsidiaries. Parrots for Parties is not affiliated in any way, nor do they by fact or inference imply to hold any rights or authorization, rights of association or sponsorship or endorsement of the use of any copyrights or trademarks as held by any individuals, or companies in association with any offer, including, but not limited to Johnny Depp, Jerry Bruckheimer, Disney and its related entities. The contents of this site are © the site's owners, all rights reserved.